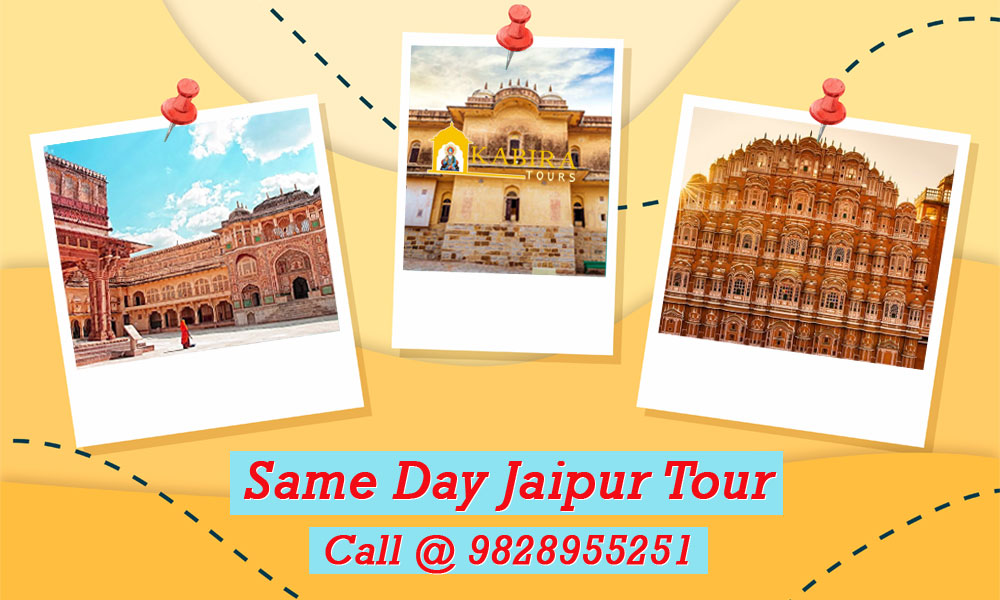 Same day Jaipur sightseeing tour very famous among Tourists, If you are planning to visit Jaipur for 1 day, then you are the right place. A special Same 1-day sightseeing tour of Jaipur takes you to the Topmost 11+ wonderful and beautiful monuments, we cover all Places in the one day Jaipur city Sightseeing tour the same 1-day by car/taxi package.
we have shared our experience of visiting the most amazing places of Jaipur in 1 day with our untiring efforts. Jaipur is the capital of the state of Rajasthan also known as the Pink City, it was built by the Maharaja Sawai Jai Singh Second with the help of Vidyadhar Bhattacharya, an architect of Bengal,
Forts, artifacts and markets hold special importance here for tourists who come to visit India from abroad. A large number of tourists visit Jaipur to see its historical heritage, rich culture, and tradition. Apart from palaces and forts, Jaipur city is quite famous for fairs and festivals. The popular annual festival here is a Jaipur Vintage Car Rally which is organized every year in the month of January. There is also an Elephant Festival which is organized in Jaipur every year, many colorful cultural programs are presented in this festival.
2 or 3 days time is suitable for visiting Jaipur's historical unique tradition and palaces, but realizing the lack of time and usefulness of the tourist, we have created a special Jaipur tour package with our many years of experience which that will help you to visit the whole Jaipur in the same day
Top Sightseeing Places of Jaipur Cover in One Day
Amber Fort
Amber Fort, a symbol of Rajputana pride containing invaluable memories of history & most important place in jaipur sightseeing tour, It has been made a favorite destination for tourists, The Sheesh Mahal and the Diwane Khas located in Amber Fort give a feel of the Rajput period. The elephant ride of the Amber fort makes it special palace among foreigner visitors. The fort is located near the Maota lake, built by the Sawai Jai Singh.
Open Close Time – 9:00 Am to 6:00 Pm
Ticket Fare – INR 100
Nahargarh Fort
Nahargarh Fort, built in the Aravalli mountain range on 1734 by Sawai Jai Singh, is a beautiful amalgamation of Indian and European architecture. More and more tourists come here while Jaipur sightseeing tour. This fort was named after Prince Nahar of Jaipur. This fort is the main place of Manvendra Bhavan and used to be used by the king and his family during the summer days. Currently, this fort has become a picnic spot which is quite famous among tourists, tourists come here for the cafeteria and restaurant located on the premises of the fort.
Open Close Time – 9:00 Am to 5:00 Pm
Ticket Fare – INR 50
Jaigarh Fort
Jaigarh Fort is known as the Vijay Fort of Jaipur. It is located on a mountain and 15 kilometers from the city of Jaipur. It is situated at a height of 400 feet from the amber fort. Jaigarh Fort occupies a very important place in Jaipur sightseeing tour, we can know the method of warfare of the kings. This fort has two entrances which are in the south and east direction. The fort was constructed for the purpose of serving the army, whose walls are spread over an area of ​​3 kilometers. A huge cannon on top of it called Jayabaan. It weighs 50 tons and most famous among all the guns around the world.
Open Close Time – 9:00 Am to 5:00 Pm
Ticket Fare – INR 50
Hawa Mahal
Hawa Mahal, located near the main market of Jaipur. It attracts the attention of tourists passing through it. This Hawa Mahal was built for royal women who stared at the city with the windows built-in it. hawa Mahal is a very important example of Jaipur darshan, The palace was built of red and pink sandstone by Maharaja Sawai Pratap Singh in 1799 just look like a structure as the crown, This five-story building has 953 windows. It is a perfect example of Indian architecture. It keeps a good position in the list of Jaipur's top visiting palaces.
Open Close Time – 9:00 Am to 5:00 Pm
Ticket Fare – INR 50
 City Place
The most prominent museum of City Palace for Jaipur trip. This museum, built-in 1729, has collected the items of the era of the King Maharajas. It also includes items displaying Rajwada's life including their costumes, weapons, utensils, armor, shields, City Place is one of the most notable tourist attraction in while Jaipur sightseeing tour, It is still inhabited by the people of Jaipur royal family. The main palaces in the City Palace are Chandra Mahal, Mubarak Mahal, Mukut Mahal, and Maharani Palace. The City Palace is mainly included in the same day Jaipur Sightseeing tour.
Open Close Time – 9:00 Am to 5:00 Pm
Ticket Fare – INR 250
Jantar Mantar
It is the largest of the 5 observatories in India. Jantar Mantar is a collection of architectural and astronomical instruments. Astrologically and mathematically settle for a timely calculation of various happening of the universe. The observatory has been included in the list of UNESCO World Heritage Site.
Open Close Time – 9:00 Am to 5:00 Pm
Ticket Fare – INR 50
Albert hall museum
Albert Hall Museum located in Ram Niwas Garden. Egyptian mummy located here is counted among its main attractions while visiting jaipur sightseeing, It is the oldest and famous museum of Jaipur when the prince of England visited Jaipur, the foundation stone of this building was laid in his memory in 1876. and opened in 1887 as a public museum. The museum has paintings, carpets, ivory, stone metal sculptures, crystals, and works in art. It is a surprising combination of Indian, British and Islamic art. It is very popular among the tourists while Jaipur tour.
Open Close Time – 9:00 Am to 5:00 Pm
Ticket Fare – INR 40
Birla Temple
Birla Temple, known for its special glow at night time, is made of white marble. It is also known as one of its very beautiful and large architectures.
Open Close Time – 9:00 Am to 5:00 Pm
Ticket Fare – INR 0
Jal Mahal
Jal Mahal, a five-story building in the middle of the Mansagar Lake. It keeps great importance for tourists, Its four floors remain underwater. The specialty of the palace is the fragrant jasmine garden where many bird expert films have been shot and wide to catch migratory birds. In the moonlight night, the view of this palace in the water of the lake is very fascinating.
Open Close Time – 9:00 Am to 5:00 Pm
Ticket Fare – INR 0
Light and Sound show (Night Program)

The popular light and sound show of Amer Fort depicts the royal history of Jaipur, Amer Mahal shines with the light emanating from the music shows of the sound show to be held here. The light and sound show has increased in color since the start of night tours in Jaipur Amber. The show is broadcast in the voice of many actors. Light and sound shows are performed in both Hindi and English. The ticket price is very affordable and gives a very amazing experience, During the Jaipur sightseeing there is a lot of enthusiasm in the tourists to watch the light and sound show in the evening and it also holds an important place in the visiting palaces of Jaipur.
Open Close Time – 7:00 Pm to 9:00 Pm (6:30 Pm to 7:30 Pm English Version) (7:30 Pm to 8:30 Pm English Version)
Ticket Fare – INR 200
Specials Same Day Jaipur Sightseeing Tour Car Fare