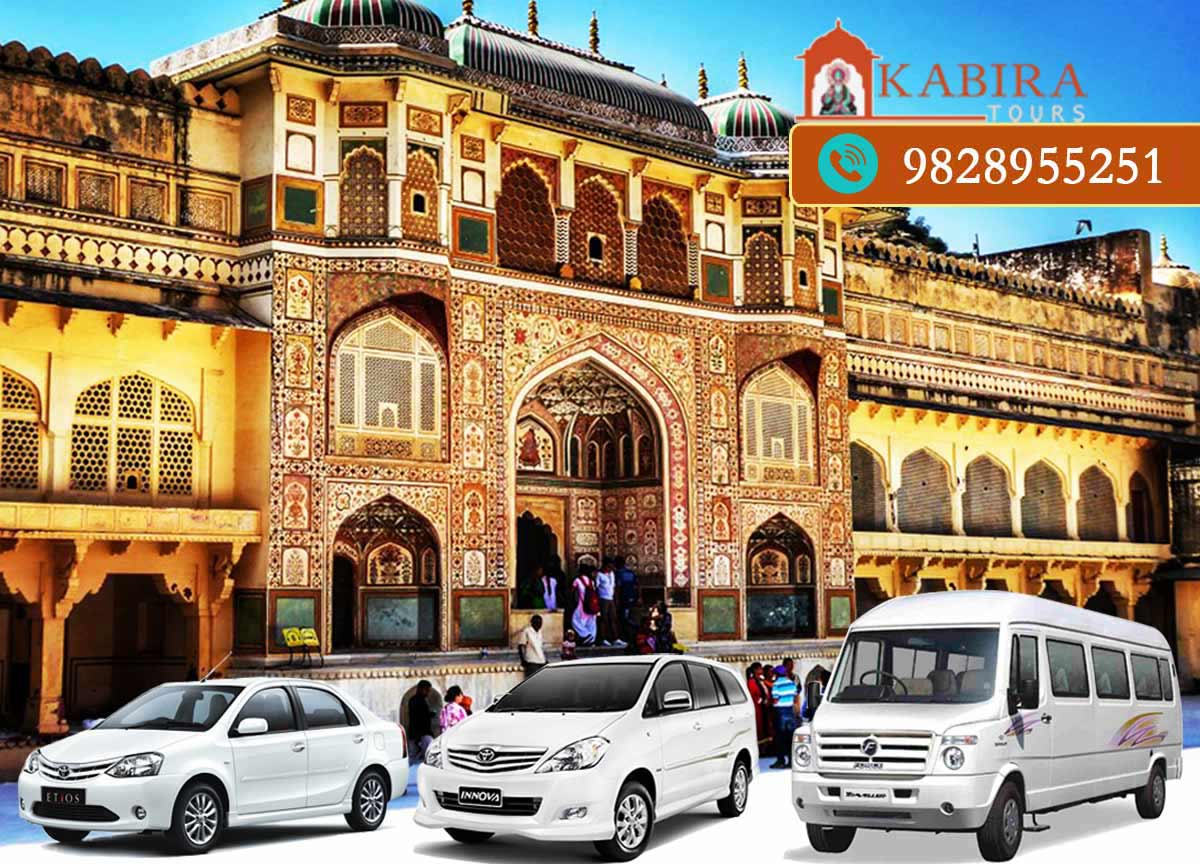 It is not difficult to find suitable Taxi or Cab services for Jaipur sightseeing tour package but the most important thing is the best service for tourists. Because good services reference more travelers to explore tourist places. Kabira Tours fulfill the slogan and providing excellent tour package services at affordable prices. The travelers can choose a taxi or cab on the basis of their needs like Toyota Etios, Innova, Tempo Traveler, sightseeing Bus etc,
Kabira Tours is more than 10-year-old experienced sightseeing tour operators.  We offer what we tell the tourists during the tour with 24 hours support. In addition to sightseeing, information about Jaipur's best hotel restaurant and other entertainment sites are also given by us, which make your Jaipur tour an enjoyable one. The smart rates of taxis or cabs help to select the good vehicle for Jaipur sightseeing tour.
Approx 15+ Jaipur monuments and sightseeing places are including in 1 day, 2 day and 3 days tour package. Below is the list of visiting places.
| 1 Day Places | 2nd Day Places | 3rd Day Places |
| --- | --- | --- |
| Amer Fort | Nahargarh Fort | Sisodiya Garden |
| Jal Mahal (Water Palace) | Jaigrah Fort | Doll Museum |
| Albert Hall | Jaipur Wax Museum | Indology Museum |
| Hawa Mahal | Sanjay Sharma Museum | Birla Auditorium |
| Ram Niwas Garden | Kanak Garden | City Palace |
| Panna Meena Kund | Traditional Market | Jantar Mantar |
| Jaipur Old pink city | Royal Gaitor | Jaipur Market |
| Jaipur Zoo | Nahargarh Biological Park | |
| Isar Lat or SargaSuli | | |
Price List of Taxis or Cabs for Sightseeing Tour in Jaipur
Kabira Tours mentioned all taxis or cabs that tourists mostly prefer during Jaipur sightseeing tourist places. We have special prices for all types of vehicles.
Jaipur Sightseeing Prices List by Indica Car
Jaipur Sightseeing Cost for 4 Person
1 Day
2 Days
3 Days
INR 1199
INR 2399
INR 3599
Note:
Local minimum 8 hours/80Km./INR 120 per hour (Extra KM INR 08)
Outstation INR 08 per KM (Toll Parking, Driver Allowance, State tax will be extra)
Special Rates for Jaipur Sightseeing by Indigo Taxi/Cab
Jaipur Sightseeing Cost for 4 Person
1 Day
2 Days
3 Days
INR 1199
INR 2399
INR 3599
Note:
Local minimum 8 hours/80Km./INR 150 per hour (Extra KM INR 08)
Outstation INR 08 per KM (Toll Parking, Driver Allowance, State tax will be extra)
Swift Dzire Special Rates for Jaipur Sightseeing
Jaipur Sightseeing Cost for 4 Person
1 Day
2 Days
3 Days
INR 1199
INR 2399
INR 3599
Note:
Local minimum 8 hours/80Km./INR 150 per hour (Extra KM INR 09)
Outstation INR 09 per KM (Toll Parking, Driver Allowance, State tax will be extra)
Special Prices for Jaipur Tour by Toyota Etios Taxi/Cab
Jaipur Sightseeing Cost for 4 Person
1 Day
2 Days
3 Days
INR 1299
INR 2599
INR 3899
Note:
Local minimum 8 hours/80Km./INR 150 per hour (Extra KM INR 09)
Outstation INR 09 per KM (Toll Parking, Driver Allowance, State tax will be extra)
All Price List for Jaipur Sightseeing by Tavera
Jaipur Sightseeing Cost for 8 person
1 Day
2 Days
3 Days
INR 1800
INR 3600
INR 5400
Note:
Local minimum 8 hours/80Km./INR 180 per hour (Extra KM INR 11)
Outstation INR 11 per KM (Toll Parking, Driver Allowance, State tax will be extra)
Special Rates for Jaipur Sightseeing by Toyota Innova Taxi/Cab
Jaipur Sightseeing Cost for 6 or 7 person
1 Day
2 Days
3 Days
INR 1999
INR 3999
INR 5999
Note:
Local minimum 8 hours/80Km./INR 200 per hour (Extra KM INR 12)
Outstation INR 12 per KM (Toll Parking, Driver Allowance, State tax will be extra)
8 Seater Tempo Traveler Rates for Jaipur Sightseeing
Jaipur Sightseeing Cost
1 Day
2 Days
3 Days
INR 3499
INR 6999
INR 11499
Note:
Local minimum 8 hours/80Km./INR 350 per hour (Extra KM INR 18)
Outstation INR 18 per KM (Toll Parking, Driver Allowance, State tax will be extra)
11 Seater Tempo Traveler Prices for Jaipur Sightseeing Trip
Jaipur Sightseeing Cost
1 Day
2 Days
3 Days
INR 3499
INR 6999
INR 11599
Note:
Local minimum 8 hours/80Km./INR 350 per hour (Extra KM INR 18)
Outstation INR 18 per KM (Toll Parking, Driver Allowance, State tax will be extra)
14 Seater Tempo Traveler Rates for Jaipur Tour Package
Jaipur Sightseeing Cost
1 Day
2 Days
3 Days
INR 3800
INR 7500
INR 11500
Note:
Local minimum 8 hours/80Km./INR 350 per hour (Extra KM INR 18)
Outstation INR 18 per KM (Toll Parking, Driver Allowance, State tax will be extra)
16 Seater Tempo Traveler Prices for Jaipur Sightseeing Package
Jaipur Sightseeing Cost
1 Day
2 Days
3 Days
INR 4000
INR 8000
INR 11800
Note:
Local minimum 8 hours/80Km./INR 400 per hour (Extra KM INR 20)
Outstation INR 20 per KM (Toll Parking, Driver Allowance, State tax will be extra)
Special Rates for Jaipur Tour by Auto Rickshaw
Jaipur Sightseeing Cost for 3 person
1 Day
2 Days
3 Days
INR 699
INR 1399
INR 2099