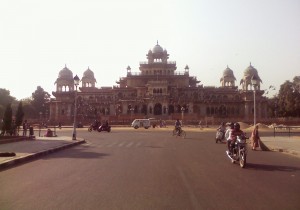 Albert Hall is a very popular and educational museum of Jaipur. It is the oldest museum of Rajasthan. It is situated near Ram Niwas Garden and opposite of the new Sanganeri gate and the Albert hall Jaipur timings are (Morning) 9AM – 5PM and (Evening) 6:30PM – 9PM. The Albert hall museum Jaipur history is very fascinating as it was architecture by Samuel Swinton Jacob and publically opened in 1887. It's another popular name is Government Central Museum. It was built by Maharaja Ram Singh had to spend 4 lakh Rs. under famine relief. It is one of the popular landmarks in the state of Rajasthan and Albert hall museum review is also most talked in the first category.
When King Edward VII of Britain has come to visit Jaipur then it was built by Maharaja Ram Singh for memory. Currently, it is operating as a government museum. It has very rich collection such as historical paintings, stone, carpets, colorful crystal works and much more. If one wants to experience Egyptian visit, Albert hall Jaipur mummy is there as it is present there with its full glory. It is only placed where we can see the inclusion of architectural styles in many countries. There are antic pictures and regalia of the kings of Jaipur. We can enjoy horse riding at there and have to pay 50 to 150 Rs charges of riding. Talking about the Albert hall museum Jaipur ticket price, it reaches up to 40 rupees for adult and 20 rupees for students. We can also select the horse color. If we want to finish complete Jaipur sightseeing then we must visit this place.
Best Time to Visit: January to April & October to December
Open and Closing Time : 9:00 am to 5:00 pm
Entry Fees: INR 20 (Indian),  INR150 (Overseas Tourist)
Distance from Jaipur Railway Station: 4.2 km
Distance from Jaipur  Bus Stand: 4.1 km
Distance from Jaipur Airport:  9.6 km
How to Reach
It is approximately 3 K.M far from Sindhi Camp bus stand and 15 K.M far from Jaipur national airport. You can reach there easily by contacting us.
Some beautiful moments of Albert Hall.