Ranthambore National Park is one of the main wildlife tourist spots in Rajasthan. Ranthambore tour is quite famous for worldwide Travelers, This is a very attractive tourist destination for tourists. If you are interested in wildlife, then this is the best palace for you. Ranthambore National Park Safari is the most exciting experience here & The main attraction here is wildlife and especially Tiger in while of Ranthambore tour package, tourists enjoy Jungle safari, roaming tigers and other animals can be seen in the jungle by open Jeeps and Canters. Tourists get the opportunity to see many birds who come from various countries, the Ranthambore National Park is the historical richness, the beauty of nature and enjoy photography and get the unique experience. Mostly, travelers make their Ranthambore tour from Jaipur, after the visit of all pink city sightseeing places.
Near Ranthambore Fort, which was built in 940 AD by Chauhan King Ratanbang dev. The fort was included in the World Heritage site of the world heritage committee in 37 sessions declared as a world heritage. Kabira Tours offer this 3 Days/ 2 Nights, and the Jungle Safari in your Ranthambore Tour, enjoying natural beauty, making more fun and memorable.
Day 01: Jaipur to Ranthambore Tour (170 KM)
Pick up on arrival at Jaipur Airport / Railway Station/ Hotel, transfer to Ranthambore, On arrival check in hotel & proceed to visit Ranthambore. It is known for the valor and glory of the ruler of Chauhan empire Hamir Dev & Fort declared as World Heritage. The main attraction is Naulkha Darwaja, Haathi Pole, Ganesh pole, Suraj Poll and Tripolia pole. Hamir Mahal, Hamir Kachari, Badal Palace, Jabar – Bhanvara, 32 pillars cenotaph, Ranihaad pond and Samanto ki haveli in Ranthambore Fort. Next visit Jogi Mahal that is located next to the Padam Talab. It is a collection of the heritage of Jaipur. Visitors come to see a natural beauty. The second largest banyan tree in India is located here. Also visit Surwal Lake, back to hotel & overnight stay at Ranthambore.
Day 02: Ranthambore Wildlife Sanctuary & Jaipur
After breakfast, proceed for visiting Ranthambore Wildlife Sanctuary. It is a world- well known Ranthambore National Park and Tiger Reserve. It is one of the biggest and most prestigious national parks in Northern India. Travel over the rugged forests to get a glance of several species of animals in their natural habitat. The Ranthambore houses have varied species like Leopards, Striped Hyenas, Tiger, Samber deer, Nilgai, Chital and many more. Jungle safari can enjoy different times twice a day. In the morning, 6.00 am to 9.30 pm and evening 3:00 pm to 6: 30 pm. Several Canters and jeeps are available on right time. Many beautiful ponds like Rajbagh pond, Padam Talab Milk Pond, attract Tourists here, Drive to Jaipur on arrival, check in hotel & overnight stay at Jaipur.
Day 03: Jaipur Sightseeing Places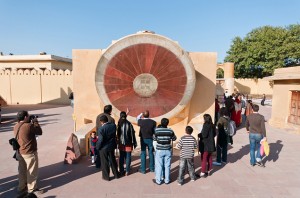 After breakfast, start Jaipur tour & visit Amber Fort with Elephant Safari. It is situated just outer the city and most beautiful example of Rajasthani forts. Explore a grand view of the city down below. After visit Amber fort proceed to the city and on the way see Jal Mahal. Jaipur offers a plethora of touristic attractions to the travelers. The City Palace in the heart of Jaipur is known for its Mixture of Rajasthani and Mughal architecture. Near the Central Museum with its huge collection of the woodwork, jewelry, costumes, brassware, and pottery. Another monument is Jantar Mantar near the City Palace. It is the largest observatory among top 5 observatories, built by Sawai Jai Singh. The Hawa Mahal or the Palace of Winds was constructed for the royal ladies to watch the royal processions & social gathering & transfer to Jaipur Airport/ Railway Station/ Bus Stand for your next Journey.
Book Your Jaipur to Ranthambore Tour Package or Call 9828955251